Specifications
Speical Request: body wave , straight, curly
Hair Style: Free Style
A lot of Men suffer the hair lost for long time , seeking for the options agaist the hair baldness.
Planting hair ? not affordable and complicated...
hair pieces or wig , if you wear usual classic wig, it is not natural. ...
Our toupee is top of the line option for anyone who is experiencing balding areas, thinning hair, or large degrees of hair loss.
Our men's toupee is hair system. why call system. unlike a typical wig or hair pieces, a hair system is created just for you. It begins with a super thin breathable base that is custom fitted for a lightweight, barely perceptible feel on your head.
We carefully choose from the highest quality natural human hair in order to create results that looks just like your natural hair. indian hair, brazilian hair, european hair. With a vast selection of colors, textures, wave patterns, thicknesses, and lengths of hair.
Natural base
Our hair systems provide most natural and comfortable result. Mono , lace or super skin welded to undetectable, natural, and very believable base. hair is knotted or injected or welded on base with natural connect.
it will look as though the hairs are growing right out of your head.You can comb your hair away from your face, part it however you like
Best of all, with a hair system, you are not limited in your activities. You can live life to the fullest without fear of losing your hair in a windstorm. Our systems are designed to with stand exercise, running, sports, work activities and more
Mono base with pu coated around 1"
Monofilament is much durable.but breathable.
if you want one unit can last long time , not often change.
mono toupee is best choice.
mono is welded with pu/skin around perimeter.
natural connection, no split .
skin area is easy to put glue or tape , clip as well.
100% indian human hair/brazilian human hair
soft and tangle free

hair length: 4 1/2" to 6"
hair style: free style
hair texture : slight wave/straight/curly
stock size: 6"x 8" ( 15cm x 20cm)
7"x 9" (17.5cm x 22.5cm)
8"x 10"(20cm x 25cm)

color : natural color 1 1b 2 3 4
Can add 10% to 30% grey hair to the above size.
only take 4-7days.
you can dye it to anycolor you want.
Base


Color 1


Color 1B


Color 2


Color 3


color 4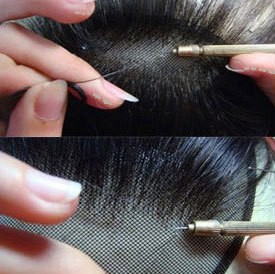 Shipped from China .
Free shipping by post mail /special line
5--15days to usa, canada, uk, japan, france
10-25days to north america, europe,austrilia,newzealand, middle east.
20-40days to brazil,africa countries, and south america countries.
Shipped from united states
3-7days to usa , canada
Shippe from united kingdom
3-7days to Europea countries.
If you choose add grey hair , the process time will take longer 4-7days.
PS. we also offer toupee tape .
pls see here http://www.oyenehair.com/toupeetape_p0058.html
RETURN POLICY

We are glad to leave the positive feedback for you and hope you will do the same to us.If you are not satisfied
with our item, Please contact us before
leaving us negative feedback and give us an opportunity to resolve the problem. our support team will resolve
your problem as quickly as we can.Every customer is important to us.Thanks very much!